Listen to the full episode:
Listen to the full episode:
https://w.soundcloud.com/player/?
Dear Friends,
A colleague accidentally sent several texts to me intended for her Mom. They were pictures of her daughter on Prom night….or shall I say a virtual Prom. Apparently she and her boyfriend were having a FaceTime date all dressed up.
What caught my eye was the picture of her daughter's corsage… and more importantly what she wrote. My colleague shared that it took her five minutes to make the corsage for her daughter by simply picking tulips, dandelions, and little white flowers from the yard with her younger daughter.
For some reason, looking at that picture of the homemade corsage moved me emotionally. I paid attention to my feelings and got curious about why it was so inspiring. I realized the story around the corsage evoked feelings I felt why reading novels by Jane Austen or Emily Bronte. The quiet beauty of walking through a field of dewy grass on an early Sunday morning watching the sunrise over the field. Piano music in the background as others worked on puzzles, embroidery, cooking, or laundry. Birds singing outside the window while reading a book. Sitting down to a savory meal with loved ones. Sitting in contemplation between journaling different thoughts. The excitement and inspiration around work projects. Creating community with neighbors and new friends.
That corsage reminded me of the simple pleasures of day to day life. The slowing down. The appreciation for nature. The release of needing "more" when what brings even more joy is finding the specialness in the "less."
What do you find inspiring? What little nuggets of gold have been unearthed in your experiences over the past few months?
At the beginning of this social isolation microcosm, we find ourselves in, I made of list of all the things I was going to do work wise and personally. The list, and the pressure, continued to grow. It took a while but I calmed down and realized the "doing" and "achieving" is much more enjoyable when I was able to settle in for the day, make a plan on what I wanted to accomplish, and set about doing it in a manner that was more present. What I discovered is while I may not have achieved that long list of what I intended, I actually found a much more profound treasure. The ability to pause and feel appreciation for what was in front of me.
I'm so glad she accidentally sent the texts to me. In something so small, I was reminded of so much.
With love,
Meg
Daily Devotion
Dear God,
Please support me in staying present today. Help me resist the temptation of wanting more and instead wanting what I already have. Show me little signs that evoke feelings of peace, comfort, and beauty today so that I have the opportunity to experience these feelings in the moment.
TRANQUILITY TREATS
The corsage reminded me of the joy that arises from "homemade" so this week it's all about exactly that!Shiva Rose's book, Whole Beauty, is one of my favorite coffee table books! I've actually made the goddess perfume and love it. So many ideas…  
Interested in making your own goddess perfume? Message me and I'll put you in touch with my contact for beautifully pure essential oils.Homemade hand sanitizer. How perfect for now! Here is a link with a step by step guide.Brighten up your day with fresh flowers… and rather than just plopping in the vase like I do, let's try to step things up a bit with some simple flower arranging. Here is a nice article with several pictures.
FINAL BITS OF INSPIRATION 'Til We Meet AGAIN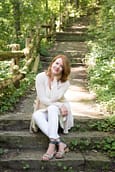 SoundCloud Recordings: I've added a few more so click here to listen.
Join my free community by clicking here.