When I was younger my friends knew if they were going to have a sleepover at my home they would also have to get to work Saturday morning. Raking, picking up sticks, or mowing the lawn. Looking back it most likely was less work than it felt like, but there definitely was "the list" taped to the cupboard. While some friends I am sure didn't appreciate it, a few in particular did. In fact, they loved it. They'd laugh as Dad said, "the family that mows together… grows together!" Flash forward to teenage years and wouldn't you know it, our Dad helped my sister start a house painting business. Something I never would have thought up on my own. Honestly, I really wanted to work at McDonald's with my girlfriends but once I turned 15, my sister Molly and her friend Michele allowed me to join M&M painting. Looking back it should have been called "M&M's" painting don't you think??? 🙂 Looking back, I realize now painting was a great teacher. Unless you wanted a messy result, it was essential to stay in the moment while working. Painting trim was my favorite and allowed for time to fly by. Carefully focusing and "being with" a windowpane allowed my mind to rest from the chatter that begins for all of us at that age. What people thought of me, how I was going to get through Chemistry class if I was getting invited to prom. Painting was my first class in mindfulness. Flash forward to today and it feels as though I am in the next level of curriculum in terms of staying in the moment during the past four weeks of quarantine due to a trip to New York last month and then not feeling so hot. Ironically, my friend Michele from "M&M Painting" emailed me last week. She is a Dean at a local college and shared tips for work and home life… and a great piece of homework I found practical and effective. It's all in her email below… Hi Meg! I have truly enjoyed your inspirational blogs – and also share them with my children. As I read your story about you and Molly meeting, I could totally see Molly saying not to worry about it and enjoying the fries J At our college, like every college across the world, everyone is pulling together to do whatever it takes to help our students successfully complete the college year. It is amazing how everyone's role is so important and an important link to complete this "puzzle" (i.e., marketing, registration, admissions, IT, IT, IT, academic resources, counseling, advising, managers, FACULTY, etc.) and how sooo many decisions are made daily to ensure we do our best for our students as they enter the new world of learning. I have a better appreciation of the work of everyone across the college – truly takes a village! I'll share a few things I have experienced during the past two weeks: 1. Marilyn, my mother dear has been in her house and my siblings have been dropping off groceries for weeks. She is usually active – swims 3x a week, lunch with friends, visits her children/grandchildren but now she doesn't like to step outside. I am happy to hear she went out to rake 2x last week. Although she has been cooped up – she is a shining light. She continues to be an inspiration to all as she still has her great humor; FaceTimes or calls us on the phone; she has her faith that she shares; baking for her neighbors, and is truly content as she waits for the flu to come to an end. I pray that many other elderly people can have this same spirit! My sister, after dropping off groceries, stood outside her window to chat and then proceeded to take her through exercises – yep starting with jumping jacks. I love that story! 2. Two questions I heard from a coach that I passed on to my team are the following: 1. What are 2 things you want people to say about you when things get back to our old normal? 2. What are 2 things you will do to make #1 a reality? I really liked reflecting on this and I hope others appreciated it too. I'm not sure what our old normal will look like – I'm praying for a brighter world! 3. One of my colleagues started an inspirational email chain. Kind of like those chain letters we received as a kid – send a book to the top person on the list then move your name up on the letter and send to 20 people. This was something I loved participating in but never received a book back from another person.   Well, this inspirational email chain was fantastic! I was getting emails from people I never talked to at the college and then I would reply to them thanking them and sending them a personal message back. It was a great way to connect and I looked forward to my next "good news" message. Great idea! 4. I really liked that you mentioned the grocery staff among the healthcare workers! I think everyone needs to take time to thank those workers. At different times when they would say "hello" or "thanks for shopping with us" I replied and said "thank you for working for us" or "I appreciate all you do!" The look on their faces was priceless! All of the grocery workers need to be commended for their endless hours of work, courage and bright light during this time. 5. One last thing…one of my support staff was having a hard time being home and making the transition of not being around people. I think this is a great time for us to take time to be aware of people who may need some extra care – and spend time encouraging them. I like your idea of writing letters to people in the nursing homes! This person generally has a great sense of humor, fun to be around, and uplifting spirit but having some difficulty with adjusting to the new normal. She is a great writer so I scheduled a Zoom happy hour with the team to highlight and celebrate our accomplishments. I asked the support staff to write the toast and give it. She did a fabulous job and we all enjoyed each other's company! She also sews so I forwarded her a website she could go to to learn about the masks that are needed for our healthcare workers. I think it feels good to help others and contribute to the world during this time. Megger – I hope you are taking time for yourself! You bring so much joy to so many people around you and I hope you are finding time to relax and do what makes you happy J Thank you for sharing your talent – your blogs – yourself with us!Please say hello to your whole family – I hope everyone is feeling good and staying healthy! Warm Regards, Michele I loved her email and especially loved the homework for us all to contemplate this week.So what do I want to be known for during this time? I thought about it last week upon receiving her email and what came to me was…1. Being responsible.2. Inspiring more tranquility and calm in people's lives. I can make #1 a reality today by wearing the mask, limiting time outside my condo, and adhering to the CDC guidelines. Not always convenient but how will I feel after this ends if I don't respect myself and others through responsibility? At a deeper level, this idea resonates even further. Looking back on your life, think about regrets. The times you let other people down or made choices you would never make today. Perhaps those actions create anxiety/guilt/shame within you. If they do, you are not alone. For me, even the smallest of memories can trigger a tidal wave of emotions and physical reactions. Having this time in quarantine for contemplation has presented me with an opportunity to heal some of those wounds and wrongdoings upon myself and others. What I landed on recently is many of my regrets regarding choices originated from this feeling of "lack of responsibility" not only to others but to myself. What does it mean to you to act responsibly towards yourself? Maybe it's getting enough sleep, feeding your body food and beverages that make you physically feel strong, meditating, being present on FaceTimes or phone calls with loved ones. I think regret often stems from choices made out of wanting what you want and wanting it right now. A great question to ask during big and small decision moments is from Debbie Fred's book "The Right Questions"… "WILL THIS CHOICE BRING ME LONG TERM FULFILLMENT OR WILL IT BRING ME SHORT TERM GRATIFICATION?" I feel all of us are called upon, especially now, to practice loving responsibility to our fellow human beings and ourselves. Now is an opportunity to shift things that needed shifting, healing parts that need healing, and letting go of things needing to be let go of. The world in many ways has been put on pause. Many of you may be dealing with overwhelm trying to work from home or trying to figure out how to makes ends meet while being laid off or looking for new work. Whatever your situation, be kind and gentle with yourself. Take in only what you can take in. I was joking with a friend that while my schedule has diminished with going places, I am starting to get more and more invites for webinars, recommendations for meditations videos, online dance classes, and virtual calls. All of that is great… what isn't great is beating yourself up for not making "the most" of every minute. There seems to be a lot of pressure to do the things you have been putting off, learn a new language (okay I will admit I spent 30 minutes online with a free French class. I now know pronouns!) and have a spiritual awakening.    
Just take it one step at a time.
        Daily Devotion:Dear God, give me the strength to greet my shadows with curiosity and courage. Help me understand I deserve the love and forgives I so freely give others. Remind me that my past has led me to this moment where greater awareness, compassion, empathy, and responsibility are activated in what I think, say, and do. Give me the strength to see beyond my immediate wants and make choices for the greater good of us all. Let's now lighten things up a bit with some lovely Tranquility Treats below! With love, Meg
[/et_pb_text][et_pb_text _builder_version="4.4.2″ text_font="Bauer Bodoni Roman||||||||" text_font_size="22px" header_font="Bauer Bodoni Roman||||||||" header_text_align="center" header_text_color="#f16b8a" header_font_size="24px"]
TRANQUILITY TREATS
This week, the treats continue to evolve and expand. I love sharing my favorite things with you…
Headspace: Meditation Course on Regret You can manifest big things like a new job or love… and you can also magically manifest more personal needs every day. Your power to do this is infinite! Case in point, as I mentioned above, this past week I have been struggling with regret.  At the core of my regret is this feeling of irresponsibility in the past. I literally asked God, my angels, and guides for help with releasing the regret that holds me back. In fact, it got to be too much. It was taking too much "headspace" so I handed it over to my peeps beyond the veil for some support. Wouldn't you know it, they literally delivered it packaged up in an app called HeadSpace! My good friend Julie happened to call that day and out of the blue brought up how she was dealing with regret. I was shocked as I never took her as someone who laid the guilt trip on herself as easily as I do. So this week, I'm diving into their free trial and taking the course with her. Join us if you'd like! Click here for details. Feng Shui Your Life: I love Marie Diamond. She has an interesting history as well as an impressive client roster. Her stories of simple adjustments are inspiring…for example, did you know that simply moving your desk can improve your career success?Click here for her free webinar.  
Podcast of the week: Style Matters I am loving this podcast! When things get a little heavy, turn it on and get inspired about your home. One of my favorite episodes is 'How the French Live at Home."  Click here to learn more. 
Book of the week: Novel Interiors by Lisa Borgnes Giramonti The author was a guest on the podcast I reference above, "Style Matters." I find it fascinating as she merges her favorite novels and the feelings evoked from the interiors within them. I bought it for my Mom and hopefully it arrived at their home yesterday! I also splurged on the Kindle version for myself. WOW! Talk about inspiration. I can't decide if I want to live in the cottage from Pride and Prejudice or the farmhouse in Anne of Green Gables… or maybe the elegant homes from Edith Warton's novels??? Click here to check it out.  
Recipe of the week: Ina Garten's Eggplant Gratin I haven't made this yet but my friend Kristen loves to cook and literally was yelling at me over the phone that I NEEDED to make this. Enough said. It's from her cookbook, Barefoot in Paris.Click here to enjoy!   
Quote of the week:
Another synchronicity this week. I saw this quote on social media and for days was looking for it off and on. I finally gave up… and the next day my friend Alison sends it to me in a text. I love it.. it's now the screen saver on my phone:"In the rush to normal, use this time to consider which parts of normal are worth rushing back to." Dave Hollis
WORD OF THE WEEK
Compassion
Definition of compassion: sympathetic consciousness of others' distress together with a desire to alleviate it Recent Examples on the WebThe president of the Holland America Line is pleading for compassion after several countries had denied docking to its Zaandam cruise ship.— Fox News, "Man speaks out as parents, ill passengers remain stranded on a cruise ship: They're struggling and they need help," 1 Apr. 2020
FINAL BITS OF INSPIRATION 'Til We Meet AGAIN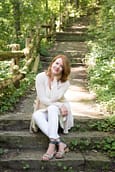 SoundCloud Recordings: I've added a few more so click here to listen.
Join my free community by clicking here.