Yesterday I was excited to see a few people actually in person versus Zoom or FaceTime! I was walking to the garage in my building and had "distant conversations" with a few neighbors. We were commenting on how tired everyone felt. It got me thinking because it seems this is a common theme from friends, family, and clients. These feelings of "stuck-ness", thinking about the past, anxiety, and frankly an overall sense of grumpiness.
It's as if the world went on pause, the frenetic energy lowered and dissolved into the earth…and as it did it went right through us leaving us in this perplexed state of exhaustion.
So what is one to do? I think now is a great time, like you have heard probably countless times already, to focus on the things you normally don't have time for during "regular" times.
For example, I ran into dog walker extraordinaire Sullivan Kohnke yesterday. He is down to just a few walks each day because everyone is working from home and able to walk their canine kids. Rather than complain, he said he is using this time to organize and streamline things in his business.
Just like automating systems, your business, or even your planner, why not think about adjusting your space to reflect your desired mood, experiences, and overall success?
Years ago, I met a man at a seminar who was gushing about how he and his wife had decluttered the previous weekend. He said it was a spiritual experience having the excess out the door. I completely agree. It's as if the decluttered and cleaned up space expands and opens up a deeper realm of possibilities for your health, your work, and your time.
My Mom has reorganized every closet and room in her home by taking on one project each day over the past month. She told me her car is filled to the top with bags of clothes and household items to donate. This makes her feel good and has a ripple effect to her experiences each day and everyone she interacts with.
So chances are you are at home right now. Look around the rooms, walk through your home, your garage, your basement, and even your car. What needs to go? What needs to be cleaned, dusted, or washed?
I find it almost meditative once I am in the project. Trust me, I procrastinate on things like this. I put off cleaning out my cosmetics drawer for weeks but once I dove in, it was fun and I love opening up the drawer each day. I guess Marie Kondo is right that organization can create joy!
To make this even more fun, take some time to think about where you want to be professionally or personally 6-12 months from now. You've all heard me talk about the power of embodying your muse. It's a way of stepping into the energy of who you want to become… and who you want to become is really who you are at the core. As you use your imagination with this idea, look around your space and ask yourself, "would this person have my place organized or arranged like this?" If not, have some fun with designing your space this weekend to accommodate that person.
If your muse is "calm and present" then reflect that in your space with the setting of furniture, colors, lighting, music, scents, etc. It's so much easier to embody your muse when your space supports the process. I guess you can look at it as creating a set out of the movie of your life.
One of my all time favorite movies is "Something's Gotta Give" because I LOVE that house! My muse Elegant Evelyn would absolutely live there!
The thing is, I don't need to move to the Hamptons in order to embody Evelyn. I can bring elements of that home into my own place. Clean, white molding… a brightly lit kitchen… a beautiful desk to work at with flowers… yummy French toast and omelettes for breakfast… organized and clean shelves of books… French music playing in the background… simple outfits like chic turtlenecks and capris… touches of the color lavender in a pillow…candles burning at night…dinner parties (umm, I mean Zoom parties!) with friends… finding momentos on walks with Birdie to add texture to my home like smooth rocks along the shores of Lake Michigan…clean, crisp rugs on freshly cleaned floors… cozy couches with pretty throws…freshly baked cookies… windows open and lights off during thunderstorms… early morning journaling and writing…freshly washed windows…organized closets…
You see where I am going?
So go ahead and think of a movie you love because of the home… or look through your favorite magazines (see a link for my favorite in Tranquility Treats below)… or go online and watch your favorite celebrities on YouTube as many of them are singing or doing the news from their living rooms. (P.S. My friend Kristen texted that Gail King's wallpaper in her kitchen is gorgeous 🙂
I'll join you on this project. We all could use a little inspiration and boost right now. So whether it's raining or snowing or the sun is shining this weekend, use the power of your physical space to evoke the feelings you want to feel.
I'm so glad you are with me each week. Check out more goodies below. I love you all and writing this blog helps me be a better me… so thank you!!!
See you next week…
Love,Meg
Daily Devotion
Dear God,Help bring out the best in me so I am able to provide loving actions toward myself and others. Please give me a dose of inspiration to elevate the energy, organization, and beauty in my environment so I can show up in a way that is kind, patient, loving, and real. Stick with me when I get frustrated with the clutter and process and remind me of the joy that awaits at the end of each project. 
TRANQUILITY TREATS
This week, let's make it all about your space!
This is by far my ALL TIME FAVORITE magazine. It's from over the pond and I get giddy when it arrives. In fact, my Mom received her a few days after me so I end up texting her pictures of my favorites pages. We devour every delicious page, idea, and paint color!  
I think I've watched the movie I referenced above, Something's Gotta Give, probably 20 times… and may again this weekend. I just get so inspired by the house 🙂 Here is a link to some of the scenes and rooms.
Farrow and Ball paint. GORGEOUS! It's all from over the pond. The colors are just so soft and beautiful. Any paint store can match the colors and if you find a Farrow and Ball book you are in for a treat! P.S. If you are in Milwaukee or even outside the area, you can call The WorkRoom in Shorewood, WI to order the real deal along with samples.
Finally, if you are new to Marie Kondo or want a refresher, you can check out her new website highlighting the KonMarie method… 
FINAL BITS OF INSPIRATION 'Til We Meet AGAIN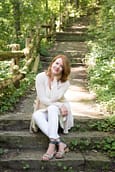 SoundCloud Recordings: I've added a few more so click here to listen.
Join my free community by clicking here.