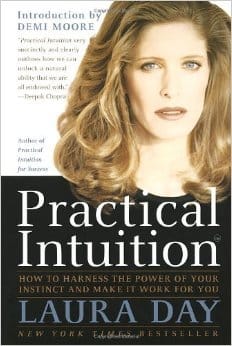 Hello Daly Gem Readers!
As many of you know, Laura Day will be conducting a Laying on of Hands/Psychic Healing Session in less than two weeks. Below I am sharing her message to the Milwaukee community in case you missed it. Be sure to sign up on her list today in order to receive up to date details on this and other events! Click here for Laura's website
Once on her site, click the "join now" tab.
If you already sent in your RSVP to Laura for the event, you don't need to do anything else other than… show up!
Date: Friday, April 17th
Time: 7-8:30pm
Location: Unity Church
1717 N. 73rd Street
Wauwatosa, Wisconsin
Cost: Laura has graciously offered her time as a gift to our community.
Please spread the word about the event!
And now, here's Laura's message to everyone:
---
Hello Milwaukee,
I am very much looking forward to healing together at Unity Church in Milwaukee.
Doing Laying on of Hands is the part of my practice that I love the most. I do not see private clients for healing as I have experienced that the power of a group creates an energy that has no equal. I am blessed by the stories of miracles that happen after the events. You, your energy and your presence, are an essential part of the process.
The system we will be working with is in, The Circle: How the power of a single wish can change your life. You do not have to have done (not a reading book, a doing book) the book in order to participate. I will not be selling books at the Circle but I am always honored and happy to sign them.
You can order books by clicking on this link
If you are doing The Circle I would review each element once through before the event!
I love The Circle and it is my daily practice. We do it as a virtual group on twitter as well.
This Circle would not have happened without Meg Daly. My weakness is my organization. The intuitive state is much like ADD but The Circle brought me Meg, now known in my home as Our Meg, although we have yet to meet! Meg, within a day of seeing my post about wanting to do Circles across the country, had a list of people, possible venues and a support network to facilitate my trip. Her effectiveness as a coach was clear in her ability to take this from an idea to an event in 24 hours! You can find out more about her by clicking here and she will be one of the healers at the event. She in turn brought in the dynamic chiropractic practice of Dr. Betty Lou Delich who not only offered to lend a healing hand and spread the word but to give me a chiropractic adjustment before the event so that my energy would be tip top for you! You can find out more about her by clicking here
This is how The Circle works. You attract what you need in yourself and in the world and, as my agent says, you don't work harder you work easier!
OM just did a piece on these Circles where you can find out more about the "why" of them. Click here.
Life is hard work and we all have blind spots and places of powerlessness. We all need help. At a Laying on of Hands, it is my job, and the job of the other healers to DO IT FOR YOU. This is a moment where you don't have to do anything, feel a certain way, abstain from x,y or z, meditate or relax. Our goal is to heal it all for you. You don't even have to surrender to the process or believe in it. You simply have to show up.
I intend to make this the first of many Milwaukee Circles. Word will spread (and please spread the word), our Circle will grow, and, in a short time we will add to the powerful Milwaukee healing community. The next time I am in Milwaukee I will also do a free intuitive group so that those of you who are interested can add intuition to your process. Anyone interested in being part of our events can email me by clicking here with Milwaukee in the subject line to be on future events. If you are receiving this email you are already on the list!
I am the only one who reads my emails so if you have questions or concerns prior to or following the event please do not hesitate to contact me. I am committed to your miracle. Please make emails short as; to protect your privacy, I am the only one who reads them.
Donations will be taken for Unity Church but they are not required and if you cannot easily afford them, they are forbidden! This is your time to take for yourself. Your presence, as part of our group energy, will already give plenty.
I look forward to healing with you!
Warmly,
Laura
lauradayintuit@twitter
Click here for Laura's website